Official Window Company of the OKC Home + Outdoor Living Show
Champion windows, sun rooms, and home exteriors is a single source solution for all your home exterior needs. Champion is one of the leading home improvement companies in the United States. When you are ready for your next home improvement project, choose a Champion and make the best choice for your family and home. Since 1953, Champion Designs, Builds, Installs and Guarantees all of our products. Click Here to learn more about our products and services.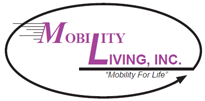 At Mobility Living, we offer affordable solutions to all of your home health care needs.